Big and bright yellow, the Doris (Denbighshire Outreach Rural Information Service) van is hard to miss.
And yet, when it first started parking up at livestock markets in the county, most of the farmers looked the other way.
Doris is reaching out in rural areas to offer mental health support, but stigmas around mental illness remain deeply entrenched.
"The first week… no-one even wanted to look at us," said mental health practitioner Gill Pullen.
She travels around with the unit and has just been putting some leaflets in the Ruthin livestock market café.
She wants to get some smaller cards made too, so that farmers can discreetly pocket one.
But she has already seen progress.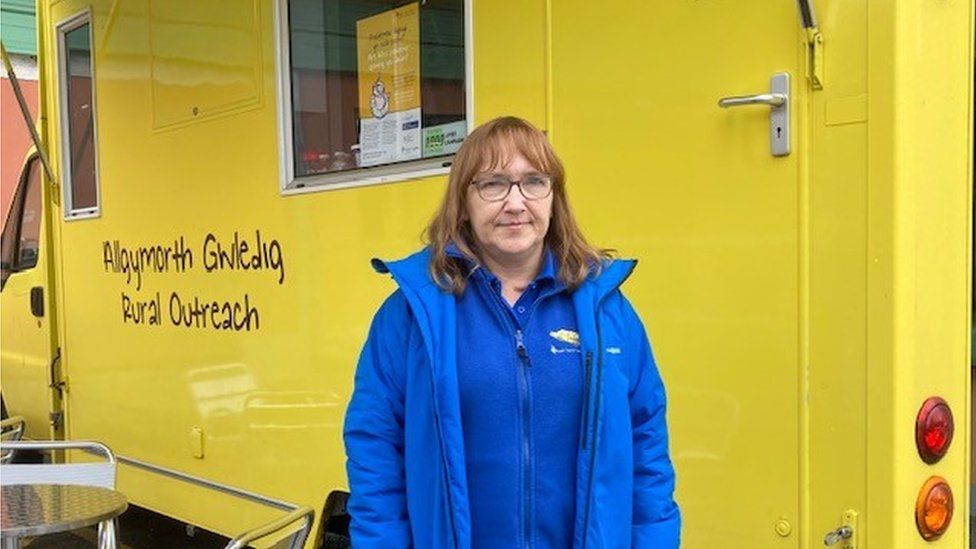 "It's about building trust," she said. "This is our third week here now and people are waving and saying hello."
Funded by the Co-op and run by the Vale of Clwyd branch of mental health charity Mind, Doris provides a mobile service in social prescribing, where Gill and her volunteers take a holistic approach to people's health and wellbeing.
They offer both emotional and practical support, connecting them to the most suitable community groups and services.
A chat and a cup of tea
The van will visit Denbighshire's rural towns, villages and farmers' markets for at least the next year, with referrals made by GPs, charities and organisations.
People are also encouraged to just turn up for a chat and a cup of tea, or make a phone call.
Gill said they would be there to help whatever their situation.
"We can't take away their mental health issues, but we can deal with the life issues that cause the mental issues in the first place," she said.
"There's a massive repertoire of services we can provide."

Still taboo for farmers
Tuffy Tilley, from Denbigh, wishes the service had been available to her brother.
On a May morning in 2020, Henllan sheep farmer Dicker Tilley, who was suffering from depression, made breakfast for his parents and then went out and took his own life.
His sister said it had devastated the whole family.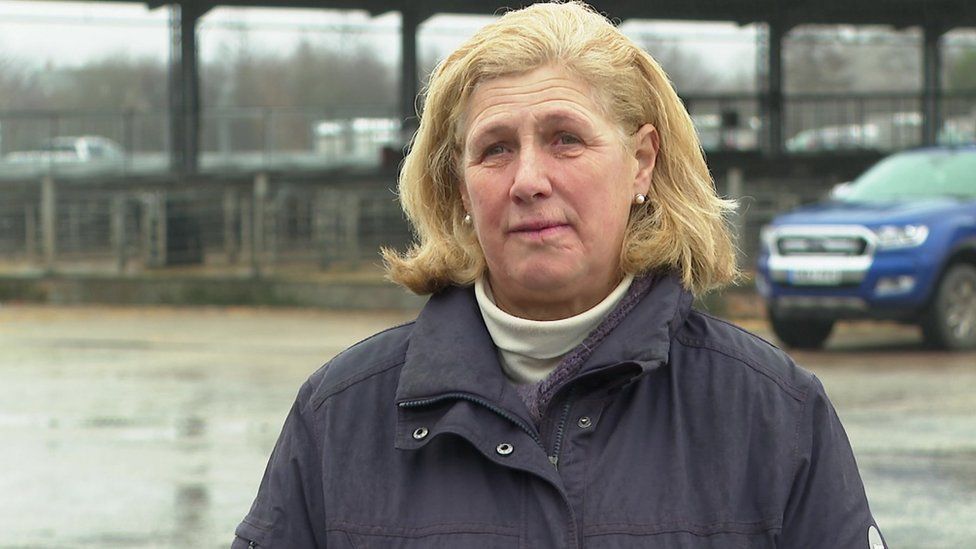 Tuffy recalled: "We knew he wasn't well. We tried to persuade him to go to the doctors. He wouldn't hear about having any help. Never ever did I think he would go and do that."
She said mental health problems were still a "taboo subject" in the farming community, but she hoped the Doris service could help others like him.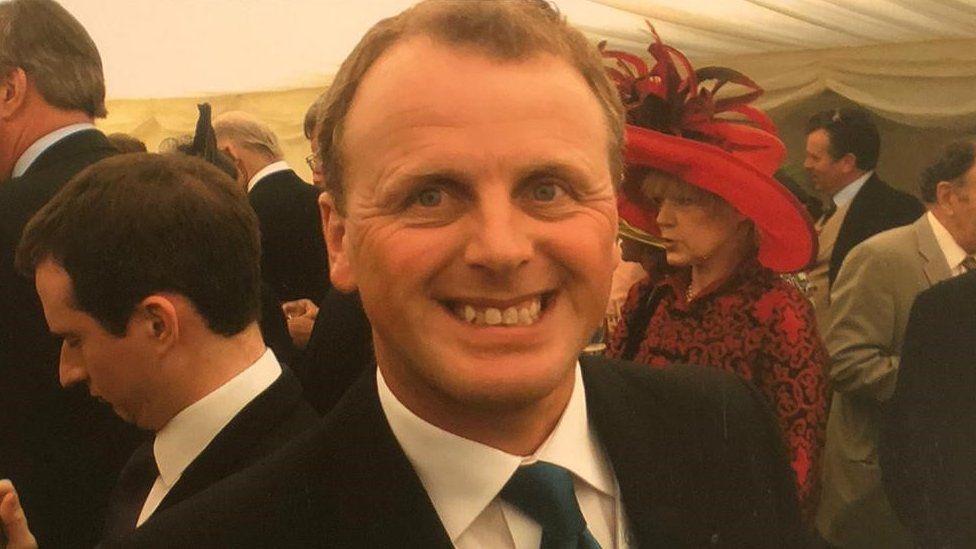 "It's very difficult to go to someone and say: 'I need help'," she said.
"Maybe this would have been a lot easier for him to do. Coming to markets and helping people here, they might come to talk to them or they might pick up the phone."

The mobile service follows on from a similar project by Mind in Rhyl last year, where 500 people were helped.
It was set up by Christine Southern, who said Mind wanted to replicate what was available on the coast in the rural parts of the county, where there is little access to mental health services.
"When they come on the van, or pick up the phone, we have a long conversation… about what matters to you, not what's the matter with you. What is it that will make life better? A hobby, sport, a friend, housing.
"We had one woman referred to us. She was living in a caravan with 3 children and only had their uniforms and pyjamas. She has now moved and the children are properly clothed, properly fed and in suitable accommodation for young children.
"In rural areas the issues are similar but exacerbated by loneliness and isolation, and Covid… has helped to increase the number of people, and the type of people, who maybe didn't have low to medium mental health problems before."
Life saver
Sixty-year old John Dean, from Ruthin, has himself been supported by Mind and urged others to look to social prescribing if they are suffering.
He became depressed following the breakdown of his marriage and said he had got to his "tether's end".
The former plant operator said the help he was given had been "100% a life saver".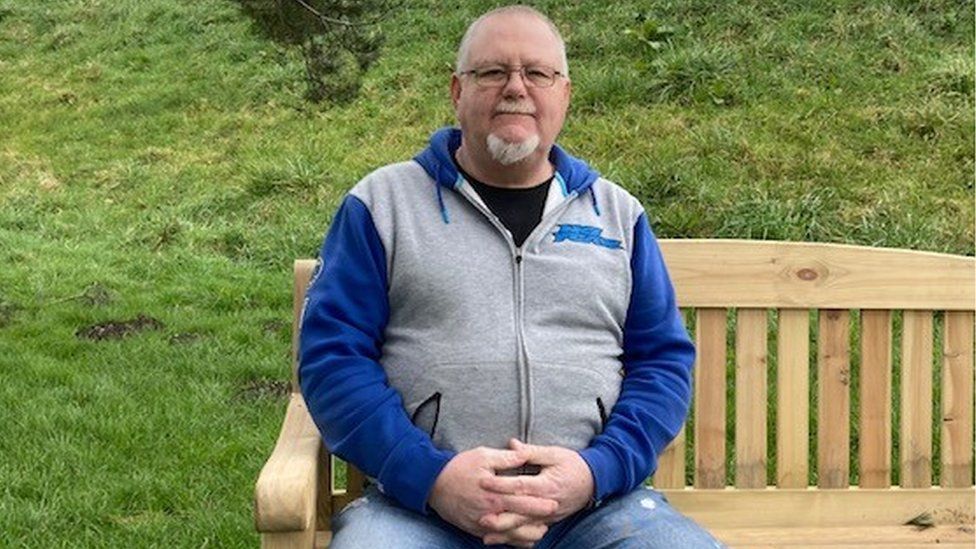 "I dropped into a bit of a big hole really and couldn't get out of it until I got in touch with Mind and they put me in touch with my mentor, and she showed me which way to go and what way to do things," said John.
"She made sure I took my meds properly – every day things, made sure I got out. She checked in on the phone. Every time she phoned, I was feeling better every time.
"I wish more men would think about it and pick the phone up, not men alone, anyone. I've come out good. I feel more confident. I've started to join more activities."
"I feel really, really good."